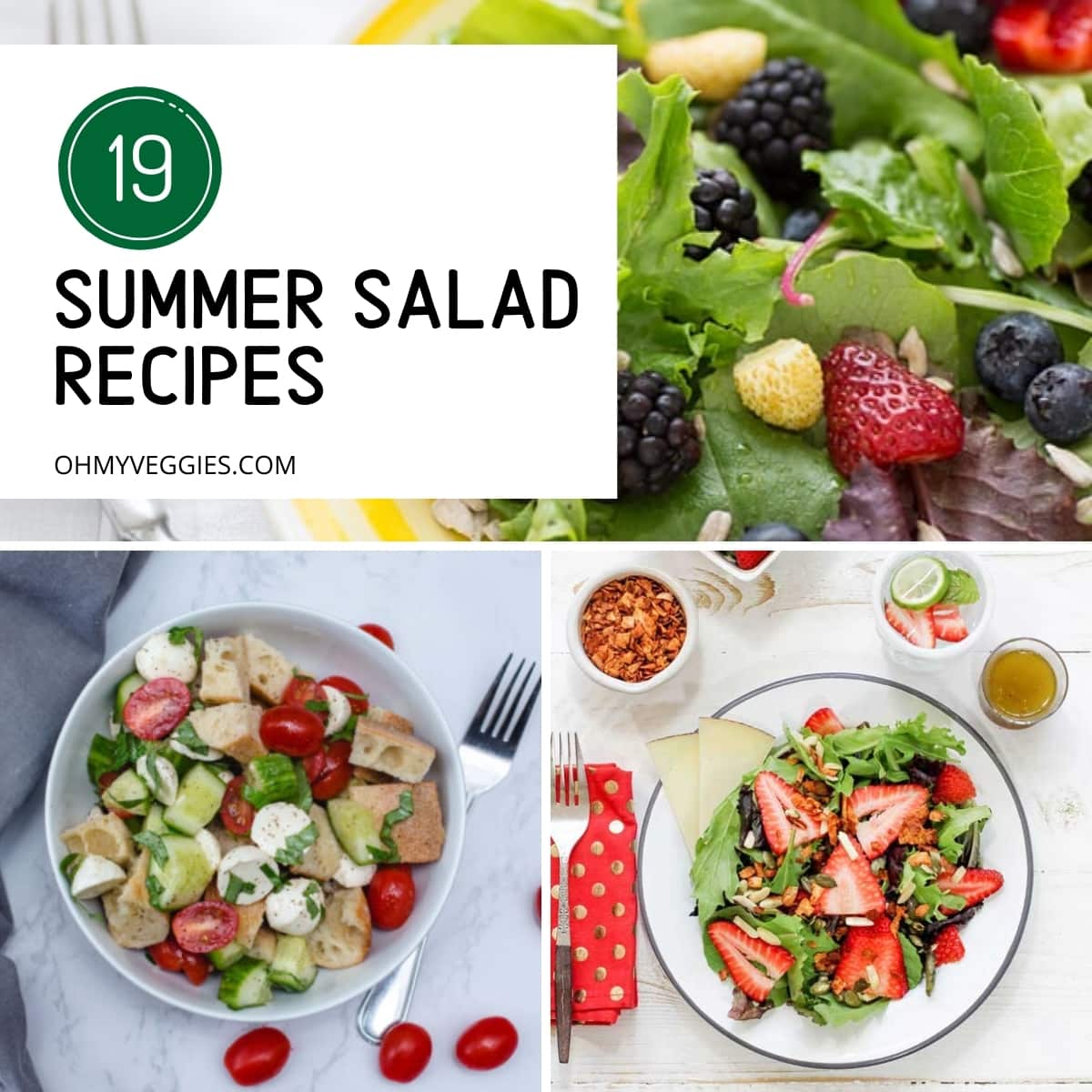 Summer is the perfect time for salads! Fresh fruits and veggies in the prime of ripeness combine into delicious, refreshing meals and sides. This list of 19 summer salad recipes is a perfect springboard into the flavors of summer!
Summer Salad Recipes
This list of 19 summer salad recipes is a perfect springboard into the flavors of summer!
This Freekeh, Zucchini, and Pistachio Salad is an adventure for those who adore textures! Enjoy the beautiful green color playing peek-a-boo throughout the entire salad.
This Simple Vegan Summer Orzo Salad is light and packed with flavor. Enjoy vegetables like grape tomatoes, corn, and green beans all tossed together!
This summery Nectarine and Avocado Salad with Ginger-Lime Dressing is a delicious balance of sweetness and the fresh salad taste we know and love. With bursts of citrusy flavor in each bite and topped with a beautiful ginger-lime dressing, this summer salad is perfect for an everyday dinner, backyard BBQ, or potluck adventure.
This delightful Greek Fattoush Salad is light and refreshing. With pops of color hiding behind green leaves, every forkful of this salad will leave you guessing what you got!
Spring Berry Salad with Lemon Verbena Vinaigrette is very light and refreshing. With juicy berries and beautiful green leaves overflowing with nutrition, this summer salad is sure to be your number one!
This Mediterranean Kidney Bean Salad is jam packed with both protein and fiber, making it a perfect snack and a scrumptious meal! This summer salad is delicious both fresh and after being in the fridge for a day or two.
A surprising combination of both sweet and spicy come together in this beautiful summer salad. Wonderfully juicy, this Spicy Cantaloupe Cucumber Salad will have you loving every bite!
A grilled salad is the best way to celebrate summer! Topped with marinated tomatoes and the creamiest avocado-basil dressing, this smoky-sweet Grilled Salad with Creamy Avocado-Basil Dressing is one you will crave again and again!
This Vegetarian Summer Taco Salad is so beautiful that it is a treat for both your eyes and your tastebuds! Loaded with nutrition, this summer salad has tomatoes, kidney beans, shredded carrots, and more. For added punch, sprinkle your salad with fresh coriander upon serving.
Yes, bread belongs in salad. And yes, you're going to love it! This Fresh and Crunchy Italian Bread Salad takes almost no time to prepare. You'll love the delicious, fresh flavors like cucumber, red onion, and garlic tossed together in this delightfully colorful salad.
This Corn Salad makes a great lunch or an excellent side to a heartier dish. Enjoy the sweetness of the corn with the light flavor of lemon juice and oregano in this delicious summer salad!
Give your tastebuds a citrusy surprise! This salad pairs delicious grilled pear with the savory flavor of arugula—an exquisite summer salad!
This Strawberry Salad with Coconut Bacon & Black Pepper Vinaigrette is made with fresh mixed herbs and greens, delicious strawberries, and crunchy nuts. This is a light and very flavorful summer salad!
Get ready for a colorful explosion in your bowl with this amazing summer salad. Juicy tomatoes and sweet corn come together with green beans in this delicious Green Bean Summer Salad.
This Vegan Greek Salad with Tofu Feta is overflowing with health benefits and flavors. Enjoy the brisk crispy lettuce and the soft tofu feta sprinkled all over the top!
This beautiful salad is made with roasted beets and crispy polenta croutons. Beet and Mixed Green Salad with Polenta Croutons and Goat Cheese is satisfying with every bite and hearty enough to be enjoyed as a meal!
Did someone mention grilled strawberries? Oh yes we did! This delicious Grilled Strawberry and Cucumber Salad will leave you completely satisfied. The beautiful sweetness of the strawberries matched with the juicy cucumbers make this a very delightful salad.
This mouth-watering summer Sumac Roasted Cauliflower Salad is great for all occasions! In this recipe, the roasted cauliflower becomes sweet and caramel-like. This summer salad is a great balance of sweet and savory.
Who says salads need to have veggies? This Late Summer Fruit Salad with Agave-Mint Dressing is a scrumptious toss of beautiful fruit in the most refreshing dressing!
Reader Interactions